Foreign Cover Friday is a weekly meme hosted by me (The Reading Fever), where foreign covers of the books we know and love are spotlighted and discussed. To join, either pick your favorite foreign cover, or pick many foreign covers, and start discussing!
This week's featured cover is:
Jessica's Guide to Dating on the Dark Side by Beth Fantaskey
It's been a while since I read this book, but I remember really liking it. I also love the cover with the guy's teeth barely showing at the top, the red dress, and the awesome bokeh. The cover is the reason I picked it up in the first place; well, that and the awesome title!

In looking for foreign covers, there weren't any that really stood out to me. What I ended up loving about these covers is their interesting titles! Their translations are cute, so pay attention to them. :)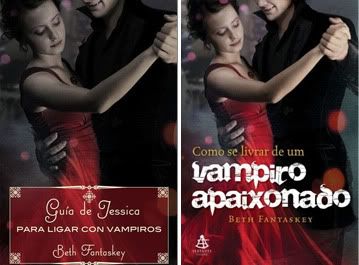 Left cover: Spanish edition. Right cover: Portuguese edition.
These both use the original photo, and aren't too different from the US edition.
Spanish translation:
Jessica's Guide to Flirt With Vampires
Portuguese translation:
How To Get Rid Of A Vampire in Love
(This one made me laugh.)
These are both different French editions. The cover on the left is the cover for the paperback edition, and the right (if translated correctly) is the pocket edition.
I like the use of flowers, especially on the right cover. The photo is fantastic!
Translation:
How to Get Rid of a Vampire in Love
These are the German and Italian covers. I like the faded, gritty look of the German cover, but I'm not a fan of the photo. The font on the Italian cover is so pretty! The photo looks weird, though; it's like the girl is defying gravity or something...
also, the position makes me think bad things.
Hahaha.
German translation:
The Vampire That I Loved
Italian translation:
Promised Vampires
Final verdict: My favorite is the US cover. :)
What are your thoughts?
Which covers do you like? Which do you hate?
Thanks for joining me for Foreign Cover Friday!
If you have a FCF post to share, include your link below.