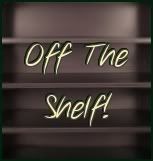 (Click to go to Challenge page)
This is a challenge I really need! The challenge is to read those copies of books that are sitting around your shelves, waiting to be read.
Challenge Levels
Tempted– Choose 5 books to read

Trying – Choose 15 books to read

Making A Dint – Choose 30 books to read

On A Roll – Choose 50 books to read

Flying Off – Choose 75 books to read
For extra hard challenges
Hoarder – Choose 76-125 books to read

Buried – Choose 126-200 books to read
I'm going to challenge myself to the
Trying
level, and get 15 of those books knocked off my shelves this year (although I really should be going for the
Hoarder
level)! I'll post updates here as I get through them, so check back. I've got some pretty good books that have just been sitting and waiting. Can't wait to start!
1. Blue Bloods by Melissa de la Cruz -
review
2. Tyger Tyger by Kersten Hamilton -
review
3. The Girl who Chased the Moon by Sarah Addison Allen -
review
4. The Clockwork Angel by Cassandra Clare -
review
5. A Posse of Princesses by Sherwood Smith -
review
6. Nightshade by Andrea Cremer -
review
7. Prophecy of the Sisters by Michelle Zink -
review
8.
9.
10.
11.
12.
13.
14.
15.